Unlock Your Blueprint to Diet and Fitness Success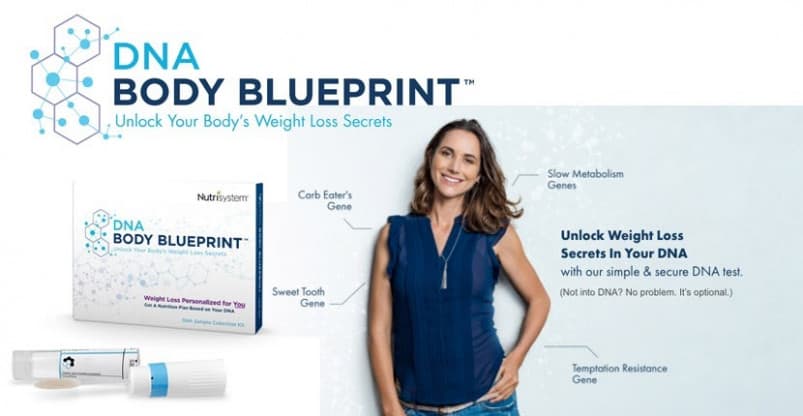 For over 45 years, Nutrisystem has helped millions of members lose weight and gain healthier lifestyles. Its recommendations are based on FDA and USDA nutritional guidelines to help you develop healthier eating habits.
Nutrisystem's latest venture, the DNA Body Blueprint kit, aims to dig even deeper into your DNA, to help you develop a weight loss plan tailored to your unique genetic makeup. Is it worth the cost to tap into your genes to help you fit into your favorite pair of jeans? I decided to find out.
Currently, Nutrisystem only offers its DNA Body Blueprint kits to United States residents who are 18 and older (adolescents 14-17 require parental authorization). Also, the kit is not available to New York residents.
You can order Nutrisystem's DNA kit by phone or ala carte from its website. It offers two different kits – the DNA Body Blueprint + Report + Nutrition Plan (for non-members) and the DNA Body Blueprint + Report + Action Plan (for active Nutrisystem members).
You're not obligated to purchase any of Nutrisystem's prepackaged foods or meal plans unless you choose to, and both kits will give you the same information. The only difference is that the Action Plan kit includes a 4-week plan to help you get a jump on your Nutrisystem weight loss journey.
Unfortunately, Nutrisystem doesn't let you upload existing DNA raw data, nor can you download your raw DNA from its website at this time. So, if you're hoping to take your data to, say, an ancestry-related site, you can't just yet.
Get the Best Deals on Nutrisystem DNA Tests!
As you can see, Nutrisystem's DNA Body Blueprint kit features a simple swab collection method.
What's in the Box:
A cheek swab collection toolkit with instructions and a secure postage-paid mailing envelope to ship your sample to Nutrisystem's certified lab partner.
How to Complete the Test:
Don't eat, drink, smoke, or chew gum for 30 minutes before you do the test. Collect your sample by swabbing inside your cheeks, then place the swab in the collection vial. Be sure to carefully follow the instructions and mail your sample back within the time indicated on the kit.
Mailing and Results: You'll need to sign up for a free Nutrisystem account in order to register your kit and receive your DNA results. Your personal information is de-personalized – the lab processes samples using each kit's unique ID number. Only Nutrisystem knows the name registered with each kit.
Your results will be ready to review in approximately 1-3 weeks after Nutrisystem's CLIA and CAP-certified lab receives your sample.
Nutrisystem's DNA Body Blueprint taps into your unique genetic code.
Learn How Genetics Impact Your Weight Loss Journey!
Unlocking Your DNA's Code for Better Health
What can you expect to learn from your Nutrisystem DNA Body Blueprint?
It maps out your DNA, revealing how your body processes what you put into it. Here's a quick breakdown of each report:
Vitamins and Minerals
Find out how your body absorbs and processes essential vitamins and minerals so you can look and feel your best. This helps you achieve the optimal balance of both by taking the right supplements and eating nutrient-rich foods, which can impact your overall health and immunity.
Vitamins and minerals covered in the kit:
Vitamin A
Vitamin B12
Vitamin C
Vitamin D
Vitamin E
Calcium
Folate
Iron
Magnesium
Zinc
Food Breakdown
Are sweets and carb-rich foods a sticking point in your diet? Or maybe you're not eating enough protein, healthy fats, and whole grains. See how your body handles specific foods, plus learn which foods Nutrisystem recommends based on your DNA makeup. Suggestions include generic foods and Nutrisystem prepackaged meals.
Metabolism
Your DNA could be the biggest factor in losing, gaining, and maintaining your ideal weight. Even if you're genetically predisposed to weigh more or have a sluggish metabolism, Nutrisystem offers action plans that can help you reach your health and wellness goals.
Eating Behaviors
Can't resist baked goods? Or do you often find yourself binging on unhealthy snacks, caffeinated beverages, and sugary sodas? This report can help you get back on track through healthier eating habits.
Fitness
Does the thought of going for a jog scare you? Or maybe you prefer the slow pace of yoga or an energizing dance workout? The right fitness routine can help you supercharge your ability to burn calories and lose weight. See which activities your genes have a preference for, whether it's power-lifting, swimming, or CrossFit.
Personalized Nutrition Plan
A one-size-fits-all approach doesn't work for many dieters. This report includes a personalized meal planner and grocery guide to help you choose the healthiest options for your body. The nutrition plan doesn't require a purchase of Nutrisystem foods, although they can complement any healthy lifestyle and dieting program.
Get Your DNA Body Blueprint Today!
Similar Tests to Consider
EverlyWell – It offers a variety of health and wellness tests, but many are broken down into single-vitamin tests (B, B9/Folic Acid, D), which can add up very quickly. Nutrisystem's comprehensive vitamin and mineral report covers the key information with a one-time cost. EverlyWell is still a solid option if you are looking for more in-depth answers regarding your health, including allergies and food sensitivities.
GenoPalate – It provides detailed reports on the foods you should be eating for optimal nutrition. While it does allow you to upload your DNA from other sites, it can cost much more to unlock every feature on its site. It's still worth a look if you want to learn personalized recipes based on your eating habits and genetic needs, including allergen-free options.
A Decent Price for Personalized Dietary Insight
The Nutrisystem DNA Body Blueprint kit is priced lower than other health and wellness DNA kits such as 23andMe. Given Nutrisystem's position as a leader in the weight loss industry, it's great value for the personalized insight you'll receive. And as mentioned before, you're not obligated to join a Nutrisystem plan or buy their foods unless you choose to sign up.
The two versions of the DNA kit are priced the same, plus Nutrisystem offers regular promotions and discounts to help you save money.
DNA Body Blueprint Kit & Report + Nutrition Plan: Includes the cheek swab kit, plus a 30-page DNA report and FREE nutrition plan to help you develop better eating and lifestyle habits.
DNA Body Blueprint Kit & Report + Action Plan: Designed for Nutrisystem members. Includes the cheek swab kit, 30-page DNA report, and 4-week action plan. Use your DNA report and nutritional guidance to tailor your Nutrisystem plan for optimal weight loss success.
Add-Ons: If you need help understanding your DNA report, or want to discuss your action/nutrition plan with an expert, there is an additional cost to consult with one of Nutrisystem's counselors. The cost is fairly minimal compared to sites like Vitagene that try to upsell you on vitamins and supplements you may not want or need.
Start Your Nutrisystem Journey Today!
Lots of Social Media Channels, But Can Be Slow to Respond
Nutrisystem offers several ways to get in touch, although many members have stated it can be very frustrating to get through to customer service, especially by phone.
You can also reach out via email, live chat (when available), and good old snail mail. They also have a small FAQ page that may answer your questions.
I found the quickest and most successful way to find answers was via social media – you can find Nutrisystem on Facebook, Twitter, and Instagram. It also has a YouTube channel and a Pinterest profile featuring links to interesting articles, recipes, and more.
I immediately got an automated reply after messaging Nutrisystem on Facebook, and they responded within a couple days – I'd call that pretty speedy considering they seem to be swamped via other communication methods.
You'll need to be patient when contacting Nutrisystem, but you'll get an automated response that could speed up the process.
Nutrisystem's Social Care Team offered a very helpful response.
Your Body's DNA Blueprint Can Help You Get on Track
If you're serious about wanting to lose weight and live a healthier lifestyle, I think it's worth the cost to take Nutrisystem's DNA Body Blueprint kit. Even if you ultimately decide to manage your own eating and fitness habits instead of signing up for its meal delivery program, you'll still get a head start on taking charge of your overall health based on your DNA rather than a catch-all diet or workout fad.
It's a bit disappointing that you can't download (or upload) your raw DNA, but if you've completed any other DNA kits, you may have access to a little health-related information already. That said, there are a couple sites where you can upload your 23andMe and AncestryDNA data to unlock diet and fitness-related insights: check out GenoPalate or DNAfit.
You may also need to be patient regarding customer inquiries, but Nutrisystem's support staff really does seem to care about helping its clients if you're willing to wait your turn.
A final thought to keep in mind: the information in your DNA report is really just a starting point, not a cure or treatment for all that ails you. However, it can help you start a dialogue with a nutritionist or primary care physician, especially if you're looking for answers regarding potential disease risks or weight-related issues.
Get The Best Deals On Nutrisystem DNA Today!
FAQ
1. How accurate is Nutrisystem?
The Nutrisystem test is mainly intended for informational purposes, so it's not meant to be a complete one-size-fits-all kit that's 100% accurate. The reports can offer targeted suggestions based on your DNA, but it's more about taking action through your eating and lifestyle habits to achieve weight loss success.
2. How does Nutrisystem compare to other Diet and Nutrition DNA kits?
The pricing is very competitive compared to other DNA kits and is in fact cheaper than nutrition-related DNA kits such as DNAfit. Other DNA sites may charge extra for "add-on" reports and pressure you to purchase their "personalized" vitamins and supplements, while Nutrisystem doesn't.
Although you can learn more about allergies and food sensitivities from EverlyWell, if you're only interested in how your metabolism works and which exercises could be the most effective for you, Nutrisystem can help without charging you a lot of money upfront.
You'll also have access to extremely helpful customer support and a community of fellow Nutrisystem members to help you stay focused on your goals, something you won't find on many DNA kit websites.
3. How much does a Nutrisystem test cost?
Both versions of the DNA Body Blueprint kit are priced at $99 US dollars, although you can score even more savings through discounts and limited-time promotions.
4. Is it safe to take a Nutrisystem test?
It's completely safe to take the DNA Body Blueprint test – your DNA sample and personal information is de-identified – only Nutrisystem knows who each kit is registered to. The lab partners follow strict security and confidentiality guidelines and only know your kit's unique ID number. Additionally, your comprehensive report is accessible only via a secure link you'll receive by email.
5. Who should consider taking a Nutrisystem test?
If you've found it hard to reach your diet and fitness goals, the Nutrisystem DNA Blueprint can help you figure out what might be holding you back. Although other DNA tests offer this information, Nutrisystem can also help you achieve success through their highly popular and successful diet and meal plans using the information in your genetic report. It also offers a supportive community to help you stay motivated, accountable, and focused on your goals.
The one-time cost of the kit and optional counseling is also cheaper than hiring a personal trainer and nutritionist if you only need a gentle nudge to get back on track.